Click the Insert to Order!
Make your own Goose call with your choice of these inserts, they come pre-tuned and ready to go, as either a Canada call or Speck, turn your own barrel and put one of these inserts in it to make your very own goose call,
Just Click the Color insert you want when the order box pops up you can change the number of inserts you want if you are ordering more than one of that color, for each color change click that insert color,
Super easy to operate for even a beginning Goose caller, this call will run from super loud down to super soft to finish off even the wariest goose.
They will fit a barrel with a .785 hole and the guts fit a .620 hole. They run $7.25 each and are ready to go!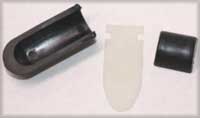 Click the Picture to Order just the guts!
These guts are also the easiest to tune on the market they come with a peg and notch system making reed placement a breeze so even a child can put one together and it will sound good. So if your just needing to replace the guts in your call, or you make your own insert to use these in, order all you need They run $3.95 each!
Good Luck and Good hunting!