We are Now selling our Duck Call inserts and Goose call inserts so you can make your own Duck calls and Goose calls just click below!
Click on the call to order!
Super easy to operate for even a beginning Goose caller, this call will run from super loud down to super soft to finish off even the wariest goose.
They can be tuned for Honker or Specklebelly just send me an email or list it in the comments box when you order the call otherwise I will send it out as a Honker call.
For a limited time we will be selling these calls for only $30.00 so get yours while they last!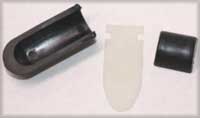 Order your Extra set of guts here just click on the Picture!